posted by WG

So.....just a short post, as I plan on putting together a longer one sometime next week, and just wanted to get some photos up here for the time being.
We had lots of fun this Friday in the noon knitting group, as we took snapshots left and right of everything under the sun, including many, many, many pair of socks that our lovely group of gals has knitted.
We have such a great group of exceptionally talented and creative girls....
See if you can spot the Cedar Creeks among these other beauties! Look closely, as each one is unique and quite different than the others.
I'm not sure what photos the other girls got, so there may be better shots of all of this, but I will post these up front, and everyone else can post theirs also. It will be great to see the differences!
NK snapping a shot of me snapping a shot....(sorry NK, but I had to include this, as you are just too cute with your little camera and we have no other photos of you on this blog!)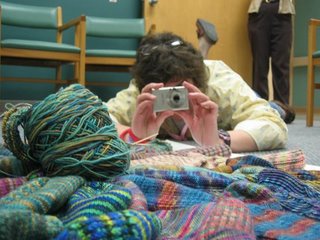 The mesh of it all....
And the Cedar Creeks present themselves...
And finally, Socks that really do Rock!